Shop North Bryan First (SNBF)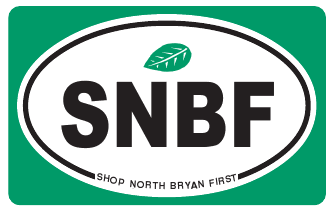 You can fill out a SNBF Card Application and pickup your SNBF Loyalty Card at the following locations:
Bedingfield Pharmacy
Pembroke Pharmacy
Heritage Bank
First Bank of Coastal GA
Pembroke City Hall
Pembroke Library
Pembroke Telephone Company
SNBF Participating Businesses

Present your card at the following locations to receive the respective discount shown.

Be sure to check back frequently for updates on promotions. Business promotions are subject to change without notice.

---

3-N-1 HAIR SALON
$2.00 OFF HAIRCUT, NOT TO BE USED WITH ANY OTHER DISCOUNT
ATLANTIC WASTER SERVICES, INC
COMMERCIAL SERVICES CUSTOMERS (FRONT END) THE FIRST MONTH FREE! VALUE IS BETWEEN $5.00 AND $300.00 DEPENDING ON SERVICE LEVEL AND OR ROLL-OFF CUSTOMERS FREE DELIVERY. VALUE IS AROUND $90.00
ALCO
10% OFF PURCHASE ON MONDAYS-NOT APPLICABLE WITH MULTIPLE DISCOUNTS-IE: SR. DISCOUNT, MILITARY, ETC.
Website
BEDINGFIELD PHARMACY
10% OFF GENERIC VITAMINS ON WED.
BLACK CREEK GOLF CLUB
10% OFF FOOD, BEVERAGES, AND MERCHANDISE. NOT VALID ON GOLF ,CARTS,RANGE, NOT VALID WITH ANY OTHER DISCOUNTS.
COASTAL CRITTER CARE
$2.00 OFF ON TUES. ONLY NAIL TRIM, 25% OFF ANY SHAMPOO/CONDITIONER ON TUES
COWART'S CAFE
KIDS EAT FREE W/ ADULT DINNER. (DAY MENU ONLY) & SATURDAY - KIDS EAT FREE W/ ADULT DINNER (NIGHT MENU ONLY)
CRAZY DAISY
WITH A PURCHASE OF $25.00 YOU WILL RECEIVE A CRAZY DAISY BAG AND UPON RETURNING YOU WILL RECEIVE AN ADDITIONAL 10% OFF ALL PURCHASES. ASK ABOUT A FREE BODY BY VI SHAKE
Website
DAIRY QUEEN OF PEMBROKE
25% OFF ANY PURCHASE, CANNOT BE COMBINED WITH OTHER OFFERS
EMBELLISH BOUTIQUE
10% OFF ANY CUSTOM VINYL ORDER ON WEDNESDAYS
FLOWERS N THINGS
10% OFF ANY CASH AND CARRY ITEMS ON TUESDAY
HAIR DELIGHTS
20% OFF ANY SERVICE
INDOOR CLIMATE EXPERTS
15% OFF REPAIRS, NOT TO BE USED WITH OTHER DISCOUNTS
IT'S THYME!
RECEIVE 10% OFF TOTAL WITH THE PURCHASE A BUDGET FRIENDLY AND SPLURGE WEEKLY MEAL OPTION (DISCOUNT AVAILABLE ONLY WHEN PURCHASED IN SAME TRANSACTION)
GABY'S GROOMING
10% OFF GROOMING ON THURSDAYS
HAIR TRENDS
$2.00 OFF TANNING BED PACKAGES- NOT VALID WITH ANY OTHER DISCOUNTS
JEFFERY BYER HAIR
$3.00 OFF CONDITIONING TREATMENT OR $5.00 OFF INTENSE CONDITIONING TREATMENT
JM VIDEO
EACH TIME YOU RENT A MOVIE, YOU WILL BE ENTERED IN A WEEKLY DRAWING FOR A FREE MOVIE RENTAL
JOE'S TIRES & AUTO
ON THURS. $5.00 OFF OIL CHANGE
MAIN STREET SALON
$1 OFF CHILD'S HAIRCUT/ AGES 1-8 YR
MATTHEW L. WATERS, PC
20% DRAFTING OF A WILL
McDONALDS OF PEMBROKE
A FREE SMALL COFFEE OR SOFT DRINK WITH THE PURCHASE OF A SOUTHERN STYLE CHICKEN BISCUIT OR SANDWICH.
Website
NAPA AUTO PARTS
ON THURS.10% DISCOUNT ON PARTS PURCHASE
OWENS SUPPLY COMPANY
5% CUSTOM FLOORING, 10% OFF VALSPAR ELAN PAINT, FREE INTERIOR PAINT, FLOOR, CABINET CONSULT
PEMBROKE HARDWARE
ON WEDNESDAYS ONLY- 5% DISCOUNT ON PLUMBING SUPPLIES, BUY 10 BOOKS GET 1 FREE
PEMBROKE PHARMACY & FLORAL
10% OFF ALL GIFT ITEMS
Website
PEMBROKE PIZZA
LARGE SPECIALTY PIZZA, BUY ONE GET ONE ½ OFF
Q-NAILS
ON MON., TUES., AND WED., ONLY FREE FRENCH OR AMERICAN MANICURE WITH THE PURCHASE OF ANY SERVICE.$5 OFF EYEBROW WAXING
SOO AMAZING
TUESDAY 20% REST OF WEEK 10% OFF
SOUTHERN SPORTSMAN
THURS ONLY 10% OFF ANY CLOTHING ITEM
STEPZ DANCE STUDIO
10% OFF DANCEWEAR
SUPER HOT-N-FIT TANNING & FITNESS
10% OFF ALL TANNING LOTIONS, 10% OFF WORKOUT CLOTHING (CLEARANCE EXCLUDED)
TILLMAN'S AUTOMOTIVE
$5.00 OFF OIL CHANGE ON WEDNESDAY
TOTAL HOME TECHNOLOGY
10% OF PRODUCTS, DOES NOT INCLUDE LABOR OR SERVICES, NOT REDEEMABLE WITH ANY OTHER PROMOTIONS
WHISTLE STOP CAFÉ
ONE(1) FREE KIDS MENU MEAL W/PURCHASE OF ADULT ENTRÉE ON MONDAYS
Special Thanks to the following sponsors: Georgia Power, Pembroke Telephone, First Bank of Coastal GA, and The Heritage Bank.